News
Apex Legends Season 8 release date and everything we know so far
Prime Benefit Spotlight: Free games and in-game content
Apex Legends Season 8 is fast approaching and we finally have a confirmed release date and some details about the new Legend, Walter 'Fuse' Fitzroy. As usual, you can look forward to a new Legend joining the arena, as well as changes to Apex Legends weapons tier list with tweaks to the overall balance of the game.
Season 7 introduced Horizon, the astrophysicist and gravitational expert, in addition to a new map, Olympus, which introduced vehicles to the battle royale game. The introduction of Olympus saw King's Canyon taking a season-long break from ranked playlists, prompting many players in the community to ask when Apex Legend's first map would return.
We now have confirmation that Kings Canyon has been completely destroyed, giving the classic map a much-needed refresh. There are a lot of fan favourite locations that have been deleted from the map, but they've all been replaced with brand new destinations to explore. Here's everything we know about Apex Legends Season 8 so far.
APEX LEGENDS SEASON 8 RELEASE DATE
The Apex Legends Season 8 release date is February 2. Almost every new season of Apex Legends has begun as soon as the previous season ended, which means Season 8 should follow that same trend.
Jason McCord, design director at Respawn has confirmed that damage trackers are finally making their way to the game in Season 8. This has been a highly requested feature from players who have been trying to aim for damage badges. There is currently no way of knowing how much damage you've dealt throughout a game, but these new trackers should let players know how close they are to the illustrious badges.
APEX LEGENDS SEASON 8 NEW CHARACTER
The next Legend to join the fray is Fuse, an explosives expert and Salvo's bone cage champion. Fuse comes from the planet Salvo, a once independent planet that very recently decided to join the coalition of Syndicate planets, an organisation set up to bring peace to the Outlands.
APEX LEGENDS SEASON 8 NEW WEAPON
The newest weapon coming to Apex Legends Season 8 is the 30-30 Repeater. This lever-action rifle deals damage with hard-hitting rounds, though it is unclear what ammo this weapon takes. As the weapon deals a lot of damage per shot, heavy ammo looks like the easy answer for this weapon. However, we do know this weapon is popular on Salvo, which may suggest there's an explosive element to this gun. Data miners have revealed the icon for explosive ammo has been in the game for a year now, so there may be a chance Apex Legends receives its first explosive weapon.
APEX LEGENDS SEASON 8 MAP CHANGES
As covered by the Apex Legends Season 8 launch trailer, Kings Canyon has been obliterated by Fuse's ex-best friend, Mags. It seems the explosive power of Salvo's inhabitants was not exaggerated, as the classic battle royale map has received a complete redesign. Fuse was introduced on top of a large gunship, but that same gunship was brought down by Mags within minutes. Kings Canyon has been expanded to include the Crash Site, a new location which features the destroyed gunship in the middle of the area.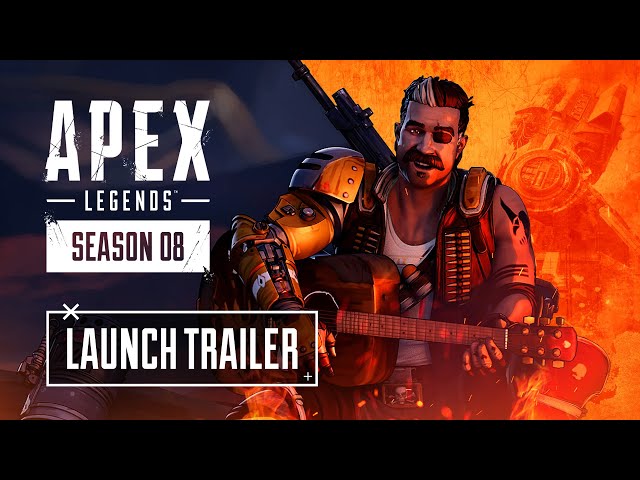 The destruction has caused numerous fuel leaks around the map, prompting a response from ECHO (Ecological Cleanup and Hazard Outreach). The ECHO compounds surrounding the crashed ship have zip-lines that take players all the way up to the top of the ship. These unique camps are home to observation towers, perfect for any talented snipers. Players must raise the observation towers first, alerting everyone nearby with an audible alarm.
Remember the bunkers introduced in Season 5? The gunship crash has caused all the bunkers in Kings Canyon to cave in, but don't worry, there will be other ways to find golden weapons. The bunkers have been replaced with Explosive Holds, set locations that contain weapons, ammo, and high tier attachments. Getting into these rooms requires players to blow open the Hold's doors, so you will have to make a scene in order to access these items.
Slum Lakes has also been destroyed, though this has been replaced entirely with Spotted Lakes. This area features a number of flooded areas, hence the new name. The ECHO compounds are designed with close quarters combat in mind, though it doesn't take long to travel around this location thanks to the zip-lines in the area.
Another area that was flattened in the destruction was the Farm. This location featured tiny buildings that could be annoying to fight in due to the lack of space. The developers have removed the structures altogether, instead they want to encourage players to fight each other in the open space.
APEX LEGENDS SEASON 8 ANNIVERSARY COLLECTION
Shrugtal, a well-known data miner has confirmed there will be an anniversary collection in Season 8. It looks like the developers are reintroducing classic Apex Legends skins from some of the older seasons, but these skins will feature new colours. Judging by some of the leaked skins, it appears the colour theme is red and black. All of the Legends except Horizon, Rampart, and Loba will be receiving anniversary recolour skins.
"Anniversary" Outlands Warrior recolor pic.twitter.com/asanQzu8Z4

— Shrugtal (@shrugtal) January 5, 2021
The recolours are also branching out to legendary weapon skins, such as the Phasewalker-themed Havoc and the Bonesaw M600 Spitfire from the Season 1 battle pass. This is a great opportunity to pick up some skins that you may have missed back when the game launched in 2019.
We'll be updating this guide as more information becomes available, so stay tuned to this page on the lead up to the Apex Legends Season 8 release date. If you haven't played Apex Legends in a while, be sure to check out our Apex Legends characters guide which breaks down every Legends abilities.

Prime Benefit Spotlight: Free games and in-game content